In recent weeks, the coronavirus has never been far from the headlines. By the end of last week, there had been more than 165,000 confirmed cases of Covid-19 with more than 6,600 deaths.
While governments around the world take draconian steps to stem the spread of the virus, one of the most immediate consequences of the coronavirus outbreak has been the impact on global stock markets.
The month to 16th March 2020 saw the value of the FTSE 100 fall by around 30%.
Other markets around the world have also seen falls. While you may be concerned about the short-term volatility of the markets, it's important to remain calm and focused on your goals.
Market falls tend to be short, sharp shocks
Whenever you invest in equities, short-term volatility is something that you should expect and accept. Everything from the Budget to Donald Trump's social media updates can affect what happens to markets around the world, and so on any given day or week prices will fluctuate in the short term.
However, in the long-term – and that's what the vast majority of us are investing for – markets tend to offer positive returns.
Here's the year-on-year FTSE 100 performance between 2009 and 2018:

Source: IG
During this period, the compound return was 8.8% per annum. As a total return that was 121%.
In the longer term, IG report that the compound annual return of the FTSE 100 over the last 25 years was 6.4% with dividends reinvested. This would be a total return of 375%.
If your long-term goals haven't changed, it's unlikely that your plans should. Your goals are likely to be the same as they were a week or a month ago. Our investment strategies are designed with the long term in mind, and this naturally considers periods of both positive and negative returns.
Earlier this year, Charles Schwab published research into the reaction of global stock markets to other pandemics.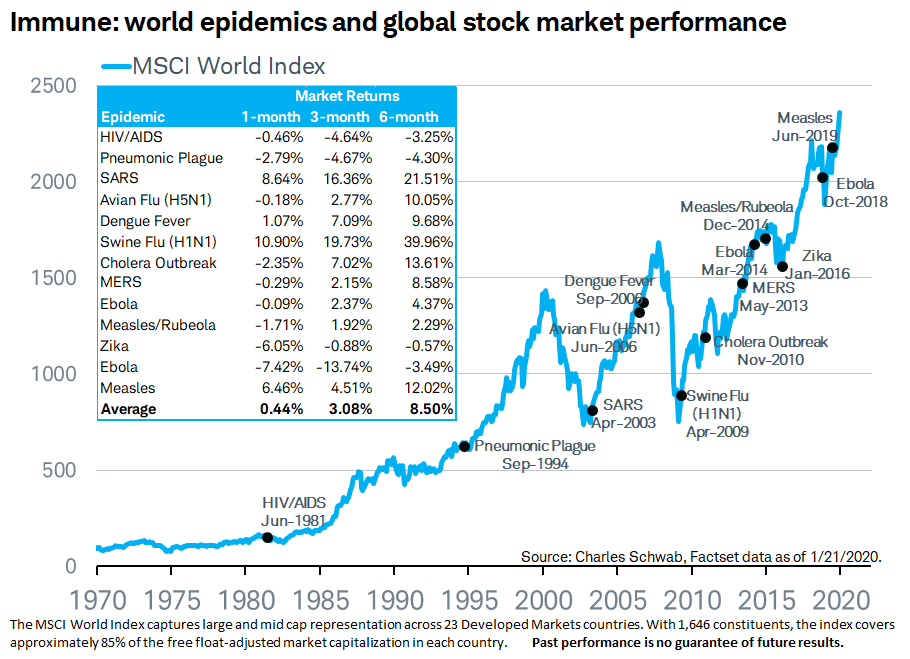 The conclusions were clear:
"While there is always the chance that the next outbreak could have greater consequences, the global economy and markets have been relatively immune to the effects of past viral epidemics – even when the global economy was especially vulnerable to a shock. A short-term dip in stocks tended to be followed by the continuation of the upward trend."
Two other things to bear in mind
You have a diversified portfolio. The fall in the value of the FTSE 100 is typically not the same as the fall in the value of your portfolio. Our clients have diverse portfolios that include exposure to other asset classes, for precisely this type of situation. Once the initial shock to markets has settled in the coming days/weeks, we will be reviewing all client portfolios to assess what changes are needed in order to best position our clients for the months ahead.
Now is a bad time to panic. If your house had fallen in value in the short-term, it is unlikely that you would immediately put it up for sale and realise a loss. While our emotions might take over at this time, reacting to a fall in the markets can be a mistake, and many studies have found that this is one of the main reasons why investors lose money.
Continuing to serve you during this difficult time
In coming weeks there is a possibility that many of us will be asked to work from home, or to avoid office environments in a policy of 'social distancing'.
It's important to underline that we have contingency plans in place should government advice change in this regard. We are well prepared for a situation where our staff have to work remotely, and normal service will continue in this scenario.
We are closely monitoring the current situation and will update you with any significant changes. If you do have any concerns, then please get in touch with us.